Hunting fees: Consists of a tag fee of $150, which covers ranch license (which is the only license required on Piney Ridge Ranch), guide services, skinning and quartering of game.
Walk-in coolers on premises used for game storage.
Lodging is available for guests hunting multiple days, which includes meals, for only $100 per night. Discounts for groups.
There are no other hunting fees except for trophy fees, which are only added after shooting. Simply add your tag fees, any lodging fees and trophy fees to obtain the total cost for the hunt you want.

Daily ranch fee of $150 per hunter.

Our animals are born free-ranging inside the ranch. They are believed to be the largest natural-born, free-ranging (inside a ranch) hunting herd of Red Stag, Fallow and Axis Deer in Missouri, as well as offering Elk and Buffalo hunts.


No Shoot, No Pay trophy fees!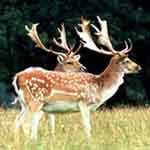 Fallow Bucks, Colored $2,000
Fallow Bucks, White $2,000

Fallow Does $500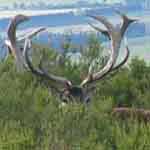 Red Stags, Any Trophy $4,000 (price may reduce late season)

Red Deer Hinds (female) $700
Management Red Stag (priced when available. Ask for details)

Elk Bulls $4000 up to 330 inches (Subject to availability)
Elk Bulls over 330 inches are higher (feel free to ask)
Elk Cows $1,500 (Subject to availability)
Note: Elk Limited Quantities


Whitetail Bucks (ask about availability)
Large quantity of trophy animals free ranging on the ranch. Nearly all the animals were born free-ranging on Piney Ridge Ranch- NOT PEN RAISED. We are not a release-and-shoot operation.
Deposit required to confirm hunt dates